Easily share important project updates.
SitePodium strongly focuses on positive project developments by enabling you to publish updates. Via an attractive timeline you can share pictures, videos and documents by which you allow your followers a view beyond the construction fences. This allows for the community to have a better sense of involvement and closer support for your project. Support from the community is made tangible by the ability to like and share updates through Social Media.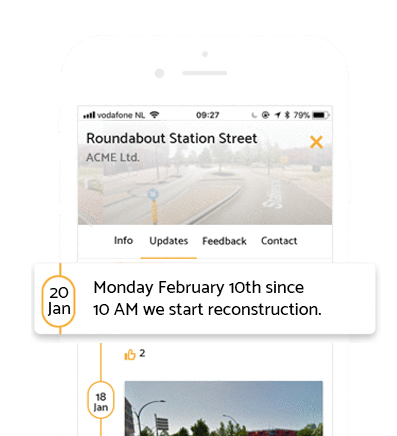 ---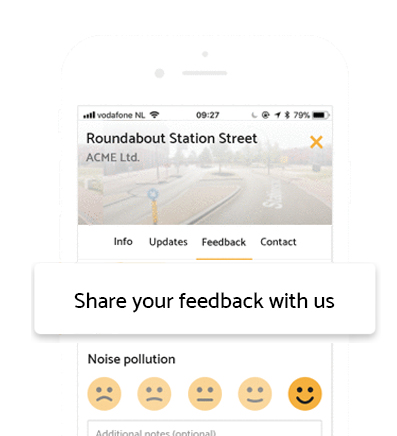 Poll the community about important subjects.
By periodically utilizing our polling functionality, you always get a sense of how the community views your project. The polling functionality allows you to gauge opinions on predetermined subjects. Followers can submit a score between 1 to 5 to express their opinions around these subjects. The scores will allow you to adjust both processes as well as your communication strategy.
---
Offer a listening ear to questions, comments and complaints from the community.
By using SitePodium, your community always has an easy way to get in touch your community engagement officer. In this way, SitePodium helps to start a dialogue. All conversations land directly in your admin panel allowing for all communication being stored in 1 place. It's also possible to periodically generate reports on the amount of questions, compliments and complaints.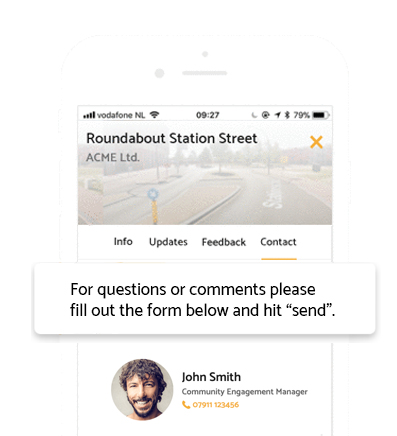 ---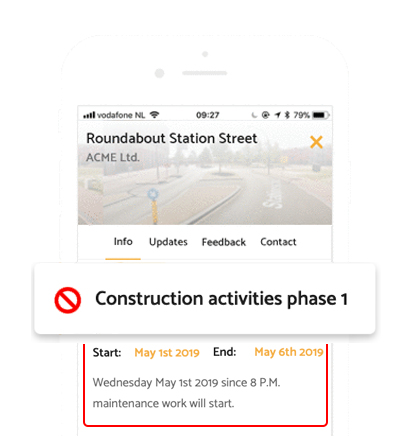 Timely notify the community about hindrance or highlights.
Within SitePodium it is possible to inform the community about upcoming hindrance or highlights. By planned sending of push notifications it is possible to inform the community long or short in advance, for example about a diversion or an opening ceremony. This allows you to communicate with the community in the moment it matters most.
---
Make your goals for community engagement measurable.
Behind the attractive looking SitePodium App is a professional content management system. Besides the easy daily management of your project updates, it is possible to review different statistics and reports. This allows you for example to benchmark the level of satisfaction between multiple projects. This way you know how your project is valued and allows you to adjust your efforts if necessary.