Who are we?
Mark van der Kooi founded De BouwApp, the SitePodium app for the Dutch market, in 2013, marking the birth of the world's first mobile application for community engagement. The idea was born out of his experiences as local resident alongside construction projects. He was fascinated by the projects themselves, yet he was disappointed by the low standard of communication. He soon met Paul Frankenhuizen that became responsible for Business Development. They compiled their knowledge of the construction sector and IT. Not long after, the first application was launched, with the Minister for Housing and the Central Government Sector Stef Blok and the Former President of Bouwend Nederland Eelco Blok in attendance. Currently, Mark and Paul work with a team of programmers to continuously improve the functionality and features of both De BouwApp and SitePodium.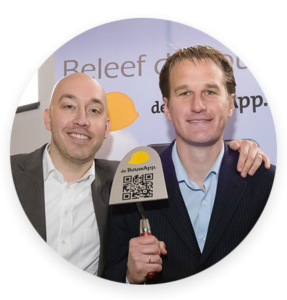 ---
Why did we develop SitePodium?
We believe in transparent communication. By all means share the highlights of your project, but also be honest about hindrances and adversity. When you are honest with the community, you can build a solid foundation of support. SitePodium is fully equipped to communicate transparently and measure support.
We are proud of the construction industry, where design, engineering and hard labour come together to create buildings, bridges, roads and sewers. It's a shame that all of that effort is often hidden behind construction fences. We believe that every project deserves a podium: a SitePodium.
---
How does SitePodium work?
Mobile apps like SitePodium facilitate quick and easy communication with local residents and commuters. Almost everybody has a smartphone these days. Construction and infrastructure projects have a huge impact on someone's life, so many people are prepared to download SitePodium and follow local projects.
SitePodium is very community-focused and is suitable for all age groups. It's easy to use and respects privacy. The app can be used to both inform and communicate. It is easy to ask a question or file a complaint, but also to give compliments.