Sustainable construction is a well-known term in the building industry. It has a very broad definition which explains that every part of your project needs to be executed in an environmentally friendly way. That goes from running a paperless office to using sustainable methods on site.
The main goal of sustainable construction is to reduce the impact of your project on the environment. That can be done by:
Minimising energy consumption

Using renewable (and recyclable) materials

Reducing waste production
Community engagement is one part of this larger goal. It makes sure that your project does not only keep the environment in mind, but that it is also sustainable on a social and economic level.
In this article, we speak more about community engagement as part of sustainable construction and how you can create socially sound projects that are well-received by the community.
Community engagement as part of sustainable construction 
You are probably well aware of how you can make sure that your project is run in the most sustainable and environmentally friendly way. It is an integral part of construction nowadays, with rules that are legally bound. Sustainable construction has become an integral part of all construction projects, from the planning phase to the final handover.
How does community engagement fit in? Local residents are also encouraged to live a greener life, by saving energy, driving electric cars and choosing environmentally friendly improvements to their place of residence. If they are making important changes for the benefit of the environment they would (and should) expect you to do the same.
By incorporating community engagement into your sustainable construction plan, you will create a project that encourages collaboration, that addresses concerns from the community and that is properly integrated into the norms and values of the current local communities.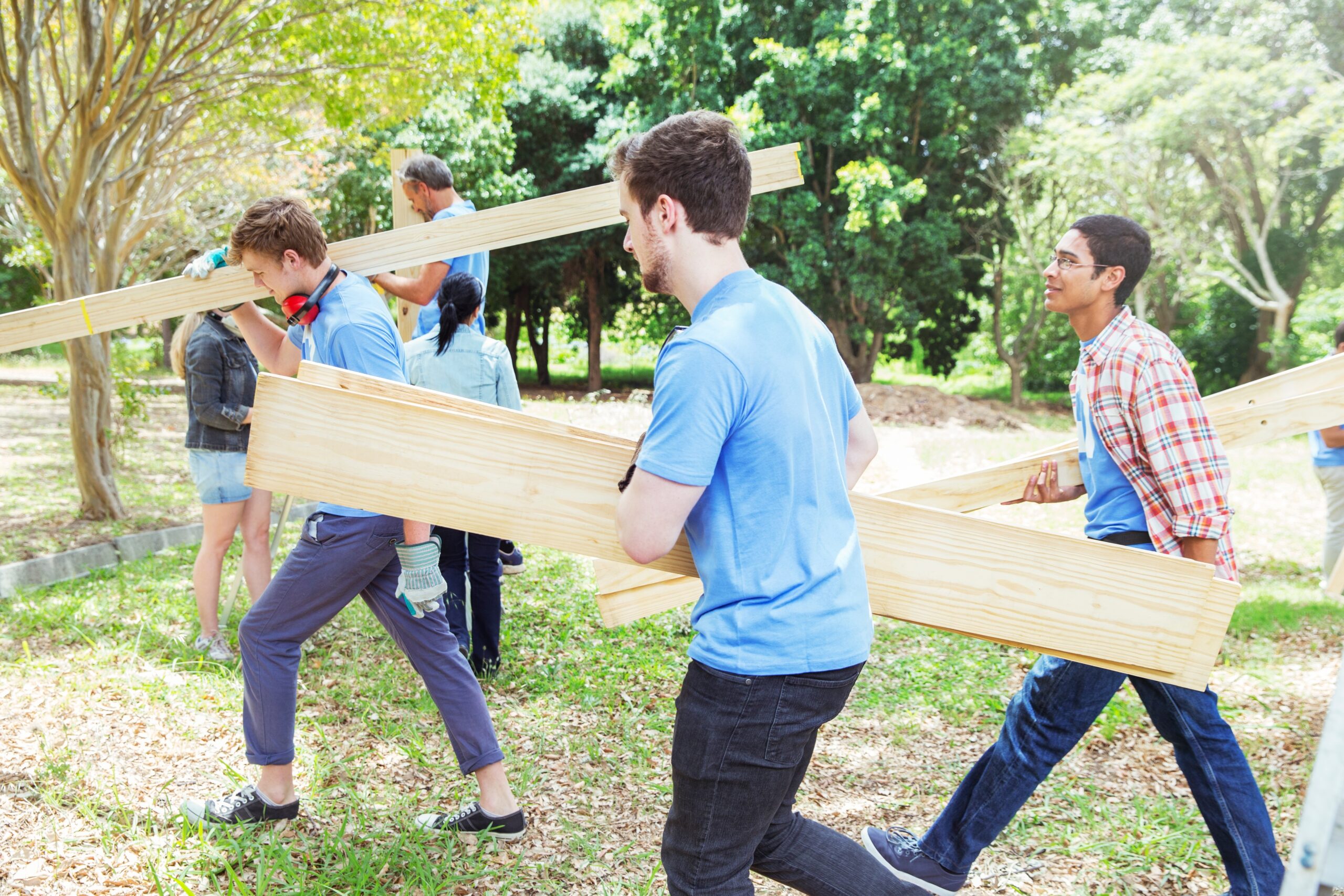 Community engagement and sustainable construction in practice
In our book "Happy Neighbours: 45 Creative Ways to Improve Community Engagement" you will find many examples of unique community engagement projects that also benefit the environment. We have been part of projects where construction firm employees do volunteering work with the community charities or parish church, for example by cleaning up the streets or the park.
The best way to explain the extent of this, is by giving you a few examples of community engagement as part of sustainable construction.
Visits to schools and sports clubs where you educate the young on how you run a sustainable project and how they can put their own changes in place to contribute.

Incorporate a vertical (herb) garden into your project which the community members can maintain and use.

Auction off reusable materials from your site instead of having them taken away. The proceeds you donate to the local charities. Alternatively, you can use these materials (or auction proceeds) to create functional art, a bench or a natural playground.

Place sensors in the area which measure the quality of the air or sound pollution. Through SitePodium you can give the residents access to the measurements and let them track them.

If your project reduces the greenery in the area, replace this somewhere else. Hand out cards to residents with seeds which they can plant themselves to give their own touch to the area.

Invest in solar panels or a solar sunflower that you place in the square. There residents can charge their phones, enjoy free Wi-Fi and hang out. The electricity can be used for atmospheric lighting at the square so it also becomes a pleasant place at night.
Sustainable construction and SitePodium
SitePodium is a communication app that brings construction companies and local residents together. You are able to communicate immediately or give users access to several digital measures you put in place. We can incorporate these into the app. 
SitePodium is an environmentally friendly alternative to letters, leaflets and other non-digital communication. It has a user-friendly and recognisable interface and a reporting function for you to measure and store the results of your efforts.
Just like you, we are passionate about the environment and have many ideas about how you can incorporate community engagement into your sustainable construction plans. Please contact us so we can share experiences and inspire you to do amazing things.